Countdown until the 2018 final
Golden Reel Grand Final Saturday September 15th 2018, Larford Lakes
So, here we are, an intensive program of 24 qualifiers which kicked off at the Viaduct fishery back on the 24th March 2018, and concluded at Larford Lakes on Saturday 25th August.
Despite intense pressure competing against other high profile angling events, the winners purse, second & third place remains at the figure I always promised.
The Golden Reel Champion will walk away with a massive £50,000, 2nd £5000 and 3rd £3000 add the four section prizes of £1000 every 6 men and the total payable will be a massive £62,000.
Ticket sales for this year's event were disappointing due to a number of date clashes, an over serviced angling diary and a world cup football programme that didn't help.
Despite numbers for our event being down on last year, our focus is aimed at increasing support for our 2019 event.
Yes, Golden Reel will enter its third year and continue to raise the profile of our sport placing it firmly alongside other high profile sporting events. So we need your support and again I will promise a spectacular competition.
Take a look at the big names in our 2018 final. On paper, it is probably the most powerful and talented final ever.
The Draw
The draw will take place on Friday 14th September at 9:30pm, streamed live to Facebook on our page and Catch More Media's page.
The Final
Join us at the popular Larford Lakes complex Nr Stourport on Severn on Saturday, September 15th 2018.
Doors open to the public at 10am.
Parking and entry is completely free.
What's going on at the final-
There will be some high profile anglers providing tuition and showing their skills, demonstrating-
Pellet waggler
Pole long
Edge fishing
Method
Cage Feeder
Demonstrations on the river with double handed salmon rods, single-handed trout rods, spinning and lure fishing.
We have a team of highly skilled salmon anglers who join us from Newcastle-Upon-Tyne.
Food & Drink
We will have-
big hog pig roast
Burgers
Hot dogs
Fully Licenced Bar
Hot & Cold drinks and snacks
Served all day
The Final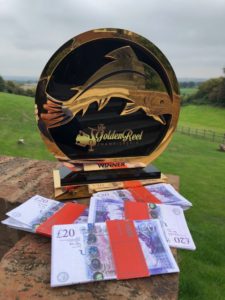 Who will lift the coveted Golden Reel Trophy and walk away £50,000 richer
The final commences at 12pm to 5pm with the presentation taking place at approximately 6pm.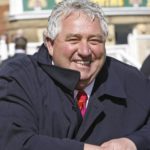 Come along and have a bet on your favourite angler and hopefully walk away with a pocket full of cash from onsite bookmaker Gary Wiltshire (Belly from the Telly)
Live coverage with commentary from Phil Briscoe and Catch More Media's Tom Scholey.
Don't miss the most powerful line up of anglers ever to compete head to head for the prestigious Golden Reel Trophy and a massive £50,000 winners cheque. Phil Briscoe
Golden Reel
Event Organiser
Archive – 2017 Winner & Final

The long hard road of 24 nationwide qualifiers concluded presenting the ultimate Grand Final hosted at Colmic / Bag'em Larford Lakes.
Six months of qualifiers, fished at the country's top venues throughout the UK provided the opportunity for the 24 grand finalists to pocket the massive £50,000 first prize and crown of Golden Reel 2017 Champion.
The draw was concluded on the Friday 18th August gala evening so to set the stage for 24 of the country's finest anglers to go head to head for a total prize fund of £62,000.
The draw was kind to some and difficult for others and heavy rain on the eve of the final reduced the water temperature and pocketed the fish together.
The fancied pegs didn't produce the weights expected and area's that were not potential winning pegs performed well.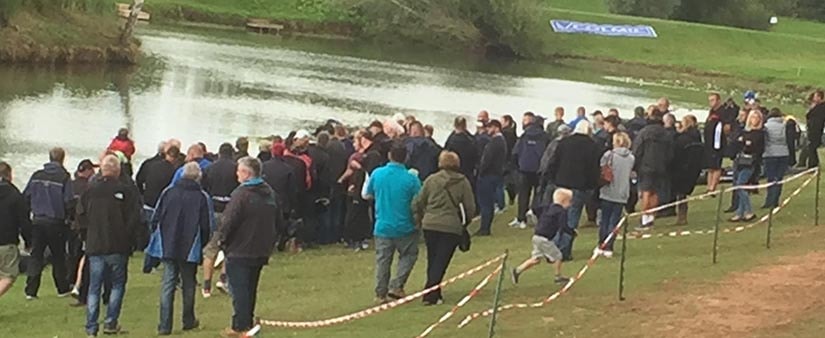 The event was well supported by the visiting public and kept pouring in all day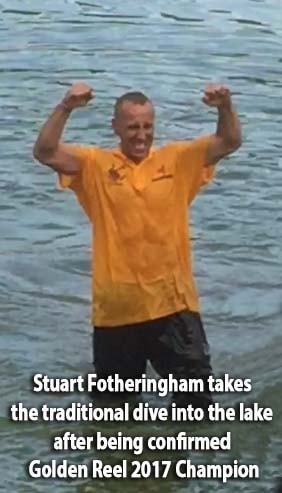 A new champion was crowned from Peg 4 (permanent peg 12) being Stuart Fotheringham (Marukyu) from Leeds.
Stu, who qualified at Larford Lakes back in July 17, had applied some productive practice sessions and knew the peg he'd drawn was likely to be a bomb & pellet or method feeder attack.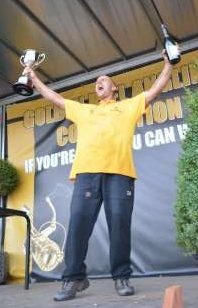 As soon as the whistle started the five hour final Stuart was straight into fish, landing carp throughout the entire match to finish the day with 147-02-00, 40lbs clear of his nearest rival.
Feeding 8mm pellet every cast and fishing bomb & 8mm hook pellets, the tip was constantly being pulled round and there was never a need to come off the feeding fish or change his approach in any way.
Fishing machine Andy Bennett (Guru) drew Golden Reel peg 9 (permanent peg 22).
Andy's approach was method feeder fishing tight to the island which produced some early bites and a few good carp but keeping the bites coming became a problem.
Later switching to his edge, Andy found a run of good carp landing 8 or 9 fish that probably boosted his weight by 80lbs+
On the final whistle, Andy placed 107-15-00 on the scales to secure second place overall and a cheque for his efforts totalling £5000.
Third on the day was Staffordshire's Craig Goldstraw (Middy) who drew peg 6 (permanent peg 16).
Craig's approach of method feeder with small waffter baits produced the bites required landing quality carp for a total weight of 90-12-00 and a fat third placed cheque payment of £3000.
Section winners collecting £1000 per section of 6 were-
Jame Taylor – pegs 1-6 – £1000
Andy Bailey – pegs 7-12 – £1000
Paul (Tommy) Hiller – pegs 13-18 – £1000
Shaun McCarthy – pegs 19-24 – £ 1000
Here is the top 6-
| Qualifier | Peg | Weight |
| --- | --- | --- |
| Stuart Fotheringham (Guru / Tricast / ABC) | 4 (12) | 147-02-00 |
| Andy Bennett (Guru) | 9 (22) | 107-15-00 |
| Craig Goldstraw  (Middy Bag'em) | 6 (16) | 95-04-00 |
| Andy Bailey (Daiwa Dons, Maruku) | 12 (28) | 90-12-00 |
| Andy Lumb  | 8 (20) | 82-09-00 |
| James Taylor  | 5 (14) | 69-01-00 |
Full list of anglers-
| Name | Peg | Permant Peg | Weight |
| --- | --- | --- | --- |
| Jon Whincup | 1 | 6 | 32-06-00 |
| Mitch Rawlinson  | 2 | 8 | 21-09-00 |
| Stuart Lister  | 3 | 10 | 47-10-00 |
| Stuart Fotheringham  | 4 | 12 | 147-02-00 |
| James Taylor  | 5 | 14 | 69-01-00 |
| Craig Goldstraw  | 6 | 16 | 95-04-00 |
| Paul Cook  | 7 | 18 | 67-12-00 |
| Andy Lumb  | 8 | 20 | 82-09-00 |
| Andy Bennett  | 9 | 22 | 107-15-00 |
| Toby Pepper  | 10 | 24 | 40-08-00 |
| Fran Orielly  | 11 | 26 | 66-05-00 |
| Andy Bailey  | 12 | 28 | 90-12-00 |
| Ray King  | 13 | 42 | 12-04-00 |
| Paul Hiller  | 14 | 44 | 39-08-00 |
| Nick Speed  | 15 | 46 | 21-13-00 |
| Luke Bamford  | 16 | 48 | 36-04-00 |
| Jamie Wild  | 17 | 50 | 22-13-00 |
| Prezemek Solski  | 18 | 52 | 32-01-00 |
| Simon Richardson  | 19 | 54 | 41-06-00 |
| Shaun McCarthy  | 20 | 56 | 58-14-00 |
| Alex Murry  | 21 | 58 | 15-00-00 |
| Paul Taylor  | 22 | 60 | 2-11-00 |
| Nick Smith  | 23 | 62 | 25-08-00 |
| Andy Power  | 24 | 64 | 32-02-00 |