The long hard road of 24 nationwide qualifiers concluded presenting the ultimate Grand Final hosted at Colmic / Bag'em Larford Lakes.
Six months of qualifiers, fished at the country's top venues throughout the UK provided the opportunity for the 24 grand finalists to pocket the massive £50,000 first prize and crown of Golden Reel 2017 Champion.
The draw was concluded on the Friday 18th August gala evening so to set the stage for 24 of the country's finest anglers to go head to head for a total prize fund of £62,000.
The draw was kind to some and difficult for others and heavy rain on the eve of the final reduced the water temperature and pocketed the fish together.
The fancied pegs didn't produce the weights expected and area's that were not potential winning pegs performed well.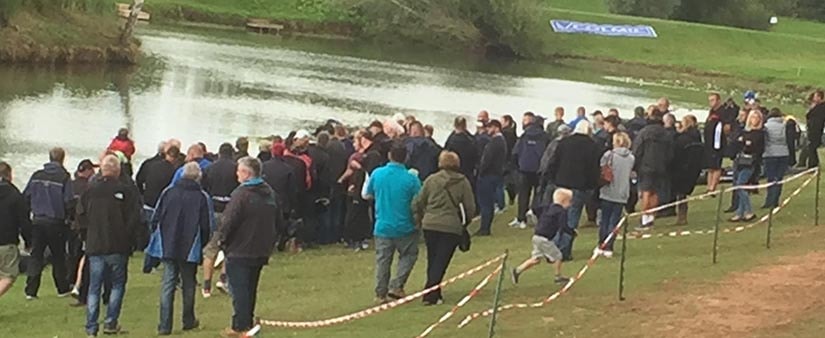 The event was well supported by the visiting public and kept pouring in all day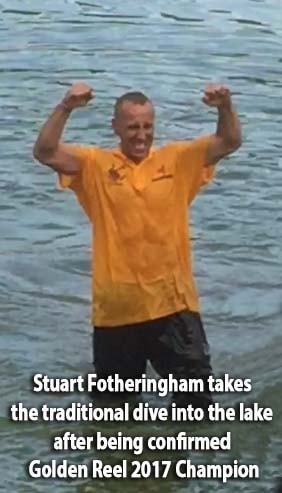 A new champion was crowned from Peg 4 (permanent peg 12) being Stuart Fotheringham (Marukyu) from Leeds.
Stu, who qualified at Larford Lakes back in July 17, had applied some productive practice sessions and knew the peg he'd drawn was likely to be a bomb & pellet or method feeder attack.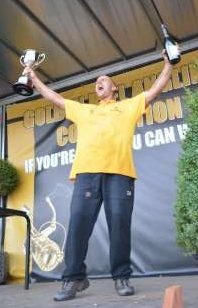 As soon as the whistle started the five hour final Stuart was straight into fish, landing carp throughout the entire match to finish the day with 147-02-00, 40lbs clear of his nearest rival.
Feeding 8mm pellet every cast and fishing bomb & 8mm hook pellets, the tip was constantly being pulled round and there was never a need to come off the feeding fish or change his approach in any way.
Fishing machine Andy Bennett (Guru) drew Golden Reel peg 9 (permanent peg 22).
Andy's approach was method feeder fishing tight to the island which produced some early bites and a few good carp but keeping the bites coming became a problem.
Later switching to his edge, Andy found a run of good carp landing 8 or 9 fish that probably boosted his weight by 80lbs+
On the final whistle, Andy placed 107-15-00 on the scales to secure second place overall and a cheque for his efforts totalling £5000.
Third on the day was Staffordshire's Craig Goldstraw (Middy) who drew peg 6 (permanent peg 16).
Craig's approach of method feeder with small waffter baits produced the bites required landing quality carp for a total weight of 90-12-00 and a fat third placed cheque payment of £3000.
Section winners collecting £1000 per section of 6 were-
Jame Taylor – pegs 1-6 – £1000
Andy Bailey – pegs 7-12 – £1000
Paul (Tommy) Hiller – pegs 13-18 – £1000
Shaun McCarthy – pegs 19-24 – £ 1000
Here is the top 6-
| Qualifier | Peg | Weight |
| --- | --- | --- |
| Stuart Fotheringham (Guru / Tricast / ABC) | 4 (12) | 147-02-00 |
| Andy Bennett (Guru) | 9 (22) | 107-15-00 |
| Craig Goldstraw  (Middy Bag'em) | 6 (16) | 95-04-00 |
| Andy Bailey (Daiwa Dons, Maruku) | 12 (28) | 90-12-00 |
| Andy Lumb  | 8 (20) | 82-09-00 |
| James Taylor  | 5 (14) | 69-01-00 |
Full list of anglers-
| Name | Peg | Permant Peg | Weight |
| --- | --- | --- | --- |
| Jon Whincup | 1 | 6 | 32-06-00 |
| Mitch Rawlinson  | 2 | 8 | 21-09-00 |
| Stuart Lister  | 3 | 10 | 47-10-00 |
| Stuart Fotheringham  | 4 | 12 | 147-02-00 |
| James Taylor  | 5 | 14 | 69-01-00 |
| Craig Goldstraw  | 6 | 16 | 95-04-00 |
| Paul Cook  | 7 | 18 | 67-12-00 |
| Andy Lumb  | 8 | 20 | 82-09-00 |
| Andy Bennett  | 9 | 22 | 107-15-00 |
| Toby Pepper  | 10 | 24 | 40-08-00 |
| Fran Orielly  | 11 | 26 | 66-05-00 |
| Andy Bailey  | 12 | 28 | 90-12-00 |
| Ray King  | 13 | 42 | 12-04-00 |
| Paul Hiller  | 14 | 44 | 39-08-00 |
| Nick Speed  | 15 | 46 | 21-13-00 |
| Luke Bamford  | 16 | 48 | 36-04-00 |
| Jamie Wild  | 17 | 50 | 22-13-00 |
| Prezemek Solski  | 18 | 52 | 32-01-00 |
| Simon Richardson  | 19 | 54 | 41-06-00 |
| Shaun McCarthy  | 20 | 56 | 58-14-00 |
| Alex Murry  | 21 | 58 | 15-00-00 |
| Paul Taylor  | 22 | 60 | 2-11-00 |
| Nick Smith  | 23 | 62 | 25-08-00 |
| Andy Power  | 24 | 64 | 32-02-00 |