A sell out again for the third Golden Reel Qualifier campaign. The lakes used today were the Specimen, Match and Arena.
Conditions were far from ideal as the heavy rain, snow and hale from the previous week coupled with much lower temperatures was always going to make it tough going for the sell out field.
The Specimen Lake was very moody but the Match and Arena Lakes still provided some fine sport.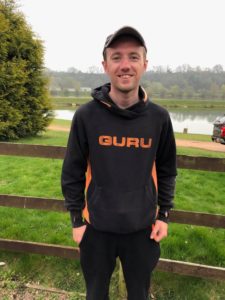 Winner today and making his way to the September Final was Welsh rod, Danny Bowen.
Dan drew peg 36 on the Match Lake and when he arrived at his peg, clearly there was a quantity of carp showing short and down the margins.
From the whistle, Dan targeted his margins with pellet feed and dead reds and was in to his first carp within minutes.
Dan kept his edges alive throughout the Match to finally weigh in a superb 163-02-00.
Chasing Danny was one of last years finalists, Les Marshall (Dynamite) who drew fancied peg 42 on the Match Lake.
Les also had many carp showing all over his peg but more so down his margins.
Les fed pellet and corn tight to the banks and fished meat on the hook to land an all carp catch that scaled in at 144-10-00.
Third placed Rob Harbour (Frenzee) was again unlucky not to make the final.
Rob had already made the top 6 at the first qualifier at Viaduct and again made the main frame.
Fishing the method and down his edge on the pole, Rob found plenty of feeding carp and F1's. Rob fished over ground bait with dead reds to weigh in 138-12-00.
Fourth overall was Chris Wells from Match peg 38.
Chris fished down his margins for the full match over ground bait and dead reds as hook bait, landing 110-06-00.
Fifth placed Neil McKinnon (Preston) drew peg 30 on the Match Lake and fished short and down his edges.
Neil lost too many fish in the weed bed to his right and it probably cost him at least a top three placing. Neil caught all his fish on banded hard pellet weighing in 107-03-00. Neil caught all his carp and F1's over ground bait and pellets.
Sixth overall was Ryan Bennett from Match Lake peg 22.
Ryan had a slow start but found the carp stacking up down his edges in the last two hours. Fishing method and pole down his edge over ground bait with dead reds, landing an impressive 92-00-00.
Our thanks to all the staff at Larford Lakes for hosting another excellent qualifier.
Next qualifier, Partridge Lakes, Saturday April 13th and the Glebe, Sunday April 14th.