Lakes – Cedar, Oak, Beasty & Elm.
Near perfect conditions today with a light breeze, overcast with highs of around 18C.
On the down side the resident carp were again showing all the signs of Spawning but this had no effect to the brilliance of this amazing venue with 26 weights of over 100lbs and a staggering 8 weights over the magical 200lbs.
Winner today was Reece Hearn (Matrix / Bag'em) who drew peg 26 on the Oak Lake.
Reece fed micro pellets down his edges and fished corn but later into his match, switching to worm hook bait to land a massive 287-00-00 of carp to 15lbs, earning his place in the September Grand Final.
Close on the winners heels was Dale Shepherd who drew peg 19 on the Elm Lake.
Dale fished down his edges feeding micro pellets and fishing worm over the top. Dale landed a huge bag of carp and F1's weighing in 268-12-00. You can't believe Dale Shepherd with all his experience and talent, no longer has a sponsor. Big mistake by his previous backers.
Third in the frame was Sam Brown (Maver) from peg 14 on the Elm.
Sam started his match fishing shallow long with casters and later down his edges remaining shallow with casters landing 247-03-00.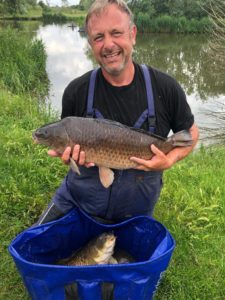 Fourth in the frame was Matt Arnold from peg 3 on the Beastie Lake.
From the word go, Matt had fish swirling down his edge so his plan was clearly edge fish which produced a massive 242-13-00 to dead reds over micro pellet.
Fifth on the day was Tony Evans (Decoy) with 237-07-00 from peg 24 on Beastie.
Tony fished caster shallow and short down his edges.
Sixth to the frame was Simon Skelton from peg 21 on Cedar.
Simon fished short with corn & worm over micro pellet landing 211-05-00.
Our thanks to the impressive Decoy Lakes for all their help hosting this latest qualifier.
Next qualifier – Saturday June 29th The Glebe.