Specimen, Match and Arena Lakes.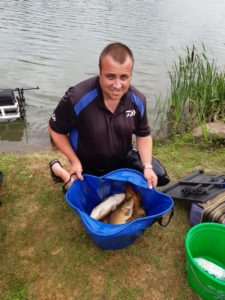 A full 100 sell out for this latest qualifier. Conditions today were not ideal with a high pressure, bright sunshine and heavy conditions.
The resident carp were swimming shallow on all the lakes but good weights were recorded all over the complex.
Winner today was Andy Morley who drew peg 2 on the Match Lake.
From the word go, fish could be seen in numbers short and down the edges so Andy opted to fish meat down his edges for most of the Match landing a massive 283-9-0 of carp and F1's to clinch his place in the September Grand Final on September 14th.
Second overall was Steve Openshaw (Mossella UK) who drew peg 70 on the Specimen Lake.
Steve caught for most of the match down his edges with dead reds over ground bait landing massive carp to 20lbs+.
Steve finished the day with 202-6-0
Third to the frame was Ross Harold (Matrix) from peg 20 on the Arena Lake
Ross targeted the carp with pellet waggler with hard 8mm pellets and later switched to his edges with dead reds over ground bait to land 191-1-0 of prime carp.
Fourth overall was Simon Skelton (Dynamite / Melton Angling) who drew peg 56 on the Match Lake.
Simon fished his entire match down the edges with meat over micro pellet to finish the day with 185-0-0 of carp and F1's.
Fifth placed Branden Fowler drew peg 88 on the Specimen Dam, fishing bomb & pellet and pellet waggler weighing in 160-5-0 of specimen carp.
Sixth overall was Martin Harrell with 158-14-0 from peg 62 on the Match Lake. Martin fished meat down his edges catching carp and F1's.
Our thanks to Larford staff for hosting the sell-out qualifier.
Next qualifier, Lindholme Lakes, Saturday August 10th 2019, draw 9am