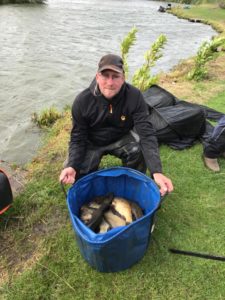 Lakes – Bonsai, Laurels and Willow.
Qualifier No 22 at the brilliant Lindholme fishery, Doncaster. 42 anglers took part on what can only be described as horrific conditions.
The lakes were lashed with 50mph winds with some heavy showers also thrown in.
Heavy overnight rain had also made for difficult conditions but the F1's and carp still fed very well.
Coasting into the final was Fish O Mania champion Andy Bennett (Guru / Tricast / Blake Baits) fishing only his second Golden Reel Qualifier of the 2019 campaign.
Drawing peg 37 on Laurels with a difficult wind in his face, Andy chose to fish bomb and pellet and caster shallow on the short pole.
He was quickly into carp and F1's putting together a convincing victory and weighing in a massive 292-9-0, almost 100lbs clear of his nearest rival.
Andy now progresses to his third Golden Reel Grand Final on September 14th, and must be one of the favourite to lift the title and a massive £50,000.
Second overall was Dale Shepherd from peg 26 on the Bonsai Lake.
Dale chose to fish tight to his edges with banded hard pellet on the pole to find quality carp and F1's weighing on 195-15-0.
Third placed Mick Owen drew peg 85 on Bonsai and braved the pole at 11m with caster shallow landing a carp and F1 catch weighing in 192-7-0.
Fourth to the frame was Joe Cartwright (Preston NW) from peg 78 on Bonsai.
Joe fished pellet shallow at 10m and to depth to record a carp and F1 catch that tipped the scales at 185-12-0.
Fifth overall was Mike Gallimore (Drennan NW) from peg 81 on Bonsai.
Mike caught on pellet shallow and down his edges to weigh in 181-4-0.
Sixth overall was Mark Stainsby (Barnsley) with 173-0-0 from peg 13 on Laurels.
Mark fished bomb and pellet for the full match.
Our thanks to Lindholme for hosting a brilliant qualifier that provided 18 weights over 100lbs plus Andy Bennetts magical 292lbs catch.