Lakes – High, Arles, Front Deans & Back Deans.
Seventy two anglers made their way to the popular Woodlands View complex to compete for a converted Grand Final placing for the 2020 Golden Reel Final.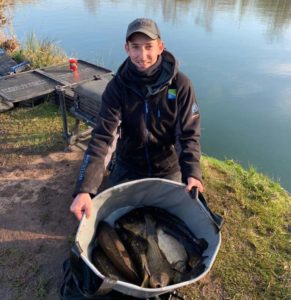 The winner today was Andy Power (Preston) from peg 22 on front Deans.
On drawing his peg, Andy's approach was the long pole fished at 14m with maggot fished shallow.
Consistent and accurate feeding produced carp and F1s from the whistle with some good quality carp boosting his overall weight to 139-0-0 and a place once again in the 2020 Grand Final.
Second to the frame and booking his place in the semi-final fish off was Dan Hook (Wales) with 123-4-0.
Dan drew Arles 32 and chose to fish at 14m with pellet. Later switching to his edge again with pellet, Dan found some quality carp feeding.
Third overall and booking his place in the semi-final was Jamie Hughes (Matrix).
Jamie drew peg 2 on Arles and fished the pole at every length with pellets and corn, weighing in 116-1-0.
Fourth place Andy Neal (Milo) pulled out peg 18 on Arles and chose to fish mainly down his edge with pellet and corn.
At the scales, he weighed in a level 96-0-0 of carp and F1's.
Fifth to the frame was Grant Albutt (Drennan) from peg 50 on back Deans.
Fishing the pole shallow with caster and later down his edges, grant went on to record a weight of 87-0-0.
Sixth placed Jack O'Sullivan drew peg 38 on Arles and fished mostly down his edges feeding micro pellets and corn hook baits to weigh in 79-2-0 of carp and F1's.
Qualifier for the Grand Final – Andy Power
Semi finalists – Dan Hook & Jamie Hughes
Our thanks to Woodlands View for hosting the qualifier.