A blistering hot day with highs of 25C and little or no breeze.
Needless to say, the resident Woodland carp were all swimming shallow so mugging tactics became the order of the day.
The 74 strong field were spread across the full complex and it was Jamie Hughes (Matrix) who again makes his way to the 2019 Grand Final.
Jamie drew peg 27 on high and fished the long pole with pellet shallow all day pinging pellet. He put together a master class performance landing a massive 266-10-00.
Second on the day was under 21 England star Jordan Holloway from peg 18 on Arles.
The Catch More Media sponsored angler fished the long pole mugging all day with meat to record a superb 230-10-00.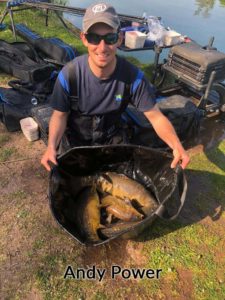 Third on the day was Andy Power (Preston) who drew peg 6 on High.
Andy had over 100lbs of F1's to caster shallow plus seventy pounds of carp.
Andy fished a superb match, demonstrating the art of shallow fishing at speed to record 176-06-00.
Fourth placed John Harvey (Preston) fished caster long mugging all day with a few late carp tight down his edges to finish the day with 170-00-00 from peg 25 on High.
Fifth to the frame was Craig Edmunds (Browning / Spotted Fin) from peg 10 on Front Deans.
Craig caught half his fish mugging with meat and the remainder down his edge on worm to record a weight of 165-06-00.
Sixth overall was Glenn Clarke (Mossella) from peg 3 on Deans.
Glen caught all his carp down the edge over groundbait with maggot weighing in 162-00-00
A superb match with twenty weights over 100lbs recorded plus two weight over the magical 200lbs.
So a big thank you to Mike and all the Woodlands View staff for hosting a superb qualifier.
Next up, Decoy Lakes, Saturday 27th April, draw 9am.