The 6th Golden Rod qualifier took place at southfield. Conditions were difficult with a hard frost and falling temperatures making for a hard all round match, all that being said, a full 60 entry turned out yet again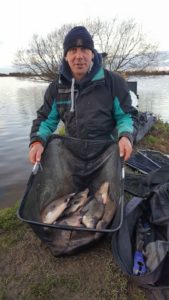 Winner overall was Paul Holmes from peg 14 weighing 26-02-00 of bream.
Paul caught on groundbait feeder at 55m with dead reds.
2nd on the day was Brett Clarke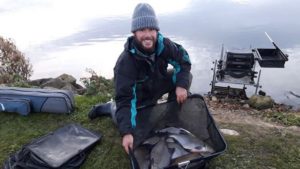 Brett fished the groundbait feeder at 65m feeding chopped worm & worm on the hook to weigh 21-09-00 from peg 63
3rd placed Jason Farmer drew peg 15 fishing the ground bait feeder at 60m feeding chopped worm with dead reds or worm on the hook to weigh 18-00-00
4th on the day was Matt Benwell who caught at 55m feeding chopped worm & dead reds from peg 39 weighing 13-14-00
5th placed Mick Axon caught using a window feeder fishing at 65m feeding neat worm & pinkies with pinkie or worm on the hook.
Mick drew peg 77 weighing in 13-12-00
All the fish caught were skimmers or bream to all the participating field of anglers.
Qualifiers for the March Final (Winner of zone of 20)-
Paul Holmes
Steve Walker
Brett Clarke
Section winners (Every 10 pegs)
Section A – Ashley Conbox
Section B – Steve Drage
Section C – Steve Cooke
Section D – Steve Walker
Section E – Gregg Owen
Section F – Alan Taylor
Our thanks to Mick Axon for organising another well run qualifier.