Lakes – Pools 1,3,4,5,6,7,8 & 9.
The 10th Golden Reel qualifier of the 2019 campaign took place at the popular Glebe fishery.
Conditions today were not perfect with a strong and cold breeze and a drop in temperature to just 15C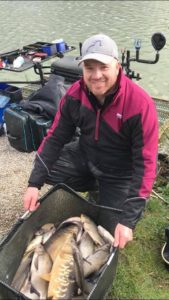 The Glebe had also faced spawning the previous week so big catches looked to be difficult.
But true to form, the complex still produced some excellent results with no less than 15 weights over the magical 100lbs recorded.
Winner today was Craig Edmunds (Browning / Spotted Fin) who drew peg 105 on Lake 7.
The Bristol based angler chose to fish pellets short to record a weight of 179-00-00 of quality carp securing his September, Grand Final placing and a shot at the massive £50,000 prize fund.
Second on the day was Luke Bamford from peg 4 on Lake 1.
Luke fished paste at 13m for most of his match switching to the feeder for an hour midway though the competition.
Later returning to his 13m line and down his edge again with paste to finish the day with 170-12-00.
Third placed Nick Smith had a slow start to his match but after a couple of hours, found carp feeding short to his pellet hook baits.
Feeding pellet consistently, Nick went on to land 169-00-00 from peg 85 on pool 5.
Fourth in the frame was Steve Openshaw (Mossella UK) who drew peg 129 on Lake 9.
Steve's match was a slow start with just one perch and a skimmer after the opening hour. Then the fish came to his short line and Steve caught well on pellet short and down his edge to weigh 151-04-00.
Fifth overall was Jason Dunworth (Advanced Angling Solutions) from peg 86 on Pool 6.
Jason drew a peg he knows well and must have fancied his chances to go through to the final.
Jason fished the feed tight across and later down his edge on the pole to record a weight of 144-08-00.
Sixth to the frame was Rob Wooton from peg 98 on Lake 7.
Rob fished pellet short and down his edges to weigh in 141-00-00.
Our thanks to Roy Marlow and his staff at The Glebe for hosting a tremendous qualifier.
Next up, Heron Brook fishery on Saturday 1st June, Draw 9am