The latest qualifier at Larford Lakes was always going to be a difficult qualifier as the fish were all in spawning mode on both the Specimen and Match lakes.
Coupled also with bright sunshine and zero breeze, big weights were always going to be ruled out.
There was also a number of big match date clashes which effected the overall numbers on the event.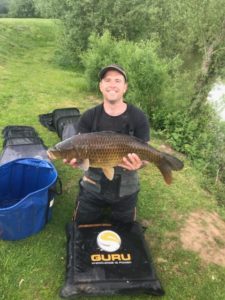 The winner today and progressing to the £50,000 Grand Final in September was London angler, Peter Upperton (Guru).
Pete drew peg 2 on the Specimen Lake where the peg was full of carp all swimming shallow.
Pete dobbed meat shallow finding carp to 20lbs. Later switching to his shorter line again with meat, he found a couple more quality carp and at the death, sneaking out one more carp from down his edge to finish the day with 149-14-00.
Second placed Kieron Rich (Middy / Burt baits) drew unfancied peg 60 on the Match Lake, fishing a near perfect match, demonstrating in grand style the art of long line shallow fishing on the pole.
Fishing long with pellet, Kieron landed 98-07-00 of carp and F1's.
Third on the day was Andy Power (Preston) from peg 80 on the Specimen Lake.
Andy landed 8 quality carp on the pellet waggler and later switched to his edges for 3 more big carp to finish the day with 88-05-00.
Fourth placed Matt Godfery (Guru) chose to fish the long pole shallow with pellet hook bait to land 82-09-00 from peg 44 on the Match Lake.
Fifth overall was Andy Christie (Heronbrook) from peg 38 on the Match Lake.
This was a peg fancied to win the match, but spawning put an end to this producing a weight of 77-10-00
Andy was forced to dob all day with pellets shallow but did find a couple of edge fish late in the match.
Sixth to the frame was Martin Harrell (Larford) from peg 18 on the Match Lake with 70-03-00.
Martin found most of his fish on the method short.
Our thanks to all the staff at Larford Lakes for hosting another excellent qualifier.
Next qualifier, the ever-popular Glebe fishery on Wednesday 29th May, draw 9am.